Rajasthan - the land of Maharajas and the home of the Rajputs is set amidst the desolate desert beauty. Though it's former rulers are now dead but the forts and palaces of amazing architectural beauty and luxury, still stand testimony to its rich cultural heritage reminding of the romance, chivalry, pride, honour, joy and warmth of hospitality that is unique.

Our Rajasthan tours and travel packages are designed to give you the optimal combination of the culture, food and traditions of Rajasthan. Our Rajasthan tours have been designed such that one can cover all the famous destinations of Rajasthan. Various tourists from abroad came to Rajasthan to spend their Christmas and New Year holidays. Rajasthan is one of the most attractive tourist destination in India. Festivals of Rajasthan which are combined with Rajasthan tours provide a magnificent spectacle of color, music and festivity. During the Rajasthan Tour you will not only experience the famous Gair dances and fire dances of Rajasthan but also enjoy the Turban tying competition of Rajasthan. Our tour packages present not only the culture of Rajasthan but even represent the colorful life of Rajasthan.

During our Rajasthan tour packages you will also enjoy the Camel Safari in Rajasthan. Sam Sand dune near Jaisalmer in Rajasthan remains one of the top attraction for the tourists. The tourists came here only to enjoy the camel ride and sunset at the sand dunes. Some of the tourists also enjoy camel rides in Khuri near Jaisalmer in Rajasthan. The tour to Rajasthan is like the tales of thousand and one nights. Indo Vacations welcomes you to a tour to Rajasthan....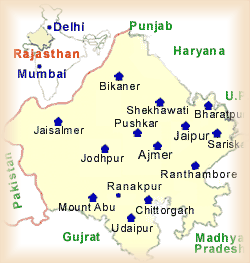 Map of Rajasthan
Rajasthan Travel Guide

About Rajasthan
Cuisines
History
Rajasthan Tours
Social Profile
Accommodation
Customs & Traditions
Museums & Galleries
Rajasthan Villages
Telephone Codes
Adventure
Distance Chart
Music & Dance
Rajasthan Weather
Tourist Attractions
Art & Culture
Economy
Parks & Sanctuaries
Reaching Rajasthan
Travel Tips
Ayurveda
Fairs & Festivals
Photo Gallery
Religious Rajasthan
Traveling Around
Camel Safari
Forts & Palaces
Rajasthan City Tours
Royal Train
Tribes
Cities in Rajasthan
Heritage Hotels
Rajasthan Craft
Rural Bazaars
Women Travel
Climate
Horse Safari
Rajasthan Links
Rural Rajasthan
Yoga
Places to Visit in Rajasthan

Ajmer
Jaipur
Mt.Abu
Bikaner
Jodhpur
Pushkar
Bharatpur
Jaisalmer
Ranakpur
Bundi
Kota
Ranthambore
Chittorgarh
Kumbhalgarh
Udaipur