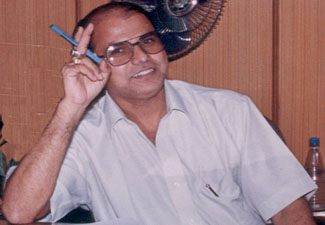 Dr. Ajoy Kr. Bhattacharjee
Hony. Lecturer & Practitioner
(Cardiac Yoga)
Dr. Ajoy also awarded doctorate degree in NDDY course from IFNHY, New Delhi in the year 1995-1998. He has also done course in "Naturopathy and Yogic Sciences" from Bapur Nature care Hospital and Yogashram, New Delhi in the year 1997- 99.
He had been a MEMBER of the Sri Aurobindo Society (Pondicherry), All India National Heart Foundation (New Delhi), and also LIFE MEMBER of Cardiac Yoga Research Centre, (Noida), Indian Red Cross Society (New Delhi), Biplabi Chattagong Smriti Sanstha (West Bengal), Chattagong Parisad (West Bengal), New Delhi Kalibari, Nikhil Bharat Banga Sahitya Sammelan (New Delhi) and All India Nature Cure Federation (New Delhi).

Anything in your mind, feel free to contact Dr. Ajoy Kr. Bhattacharjee or the team of Indo Vacations. (e-mail)