Places of Interest, Tibet
New Tingri

Also known as Shegar, it is a small town near Tingri. Surrounded by mountains, it is settled in the shadow of a ruined fortress. Though the fort has been ruined, it offers a majestic view to the visitors. Seeming to grow out of the craggy brown rock, its sinuous wall bristles with watchtowers like stegosaurus spines. Shegar is the last stop before Everest Base Camp and has the highest post office in China. New Tingri also has a beautiful functioning gompa. Gompa is a Bhuddist temple or vihara which contains a central prayer hall with a Buddha statue, benches for the monks or nuns to engage in prayer or meditation and attached living accommodation. With all these features New Tingri is a wonderful place to explore!
Nyalam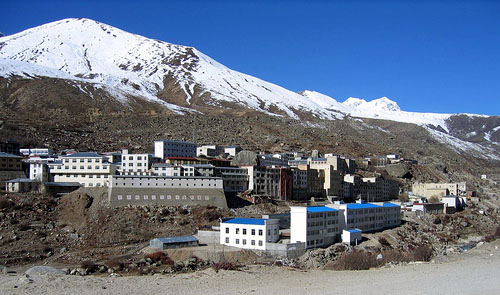 A small Tibetan town near the Nepal border is the county seat of Nyalam region in Shigaste Prefecture. Nyalam is situated at 3,750 metres above sea level. A town of stone buildings and tin roofs, Nyalam is an important old trading post.
Xegar

Also known as Tingri or Shekar Dzong is a new Chinese commune built at the foot of the ruins of Xegar Dzong. It is renowned for being the starting point for many climbing expeditions. It is base for expedition to Mt. Everest and many other important peaks. It is located at 14,891 feet above sea level and only 7 kms from the main road. It provides spectacular views of Mount Everest, Mount Lhotse and Mount Makalu which lie around in highest mountain group in the world. This town used to be an important trading post where Sherpas from Nepal exchanged rice, grain and iron for Tibetan wool and salt.
Zhangmu
This town lies in the southern region of Himalayas about 776 km. away from the capital of Tibet Lhasa. Bordering Nepal to the south, it has been one of the key routes of trans-Himalayan trade between China
and Nepal since time immemorial. The work of Sino-Nepal Road, has made this town a most welcome sight both for tourists and traders alike. It is popular among the tourist for its location near the Mt. Everest, the highest peak in the world. Travelers come mainly for climbing up the skyward mountain, admiring the delightful sights, or pilgrimage at its holiness.

Situated at the altitude of about 2300 m. Zhangmu is mild and humid place and provide extravagant hope in the common dry and cold Tibetan area. Zhangmu is wonderful destination of Tibet with marvelous mountains, flexural rivers, lush pines and flourishing flowers almost all the year round. As a trading port, Zhangmu Town is also much modernized with many grand buildings. One can find customhouse, business bureau, factories, shops, banks, post offices, schools, hotels, restaurants and resident buildings in this town that are orderly arranged beside the street. Zhangmu town has very colorful bazaar that remain busy and crowded with number of tourists and businessmen alike. Walking here is also a unique experience.