Bharatpur Bird Sanctuary commonly known as Keoladeo Ghana National Park is one of the finest bird parks in the world. The Bharatpur Bird Sanctuary is the famous and easily accessible bird sanctuary in India. This is the largest bird sanctuary in Asia. During the winters, various migratory birds come here all the way from Siberia and Russia, including the rare Siberian crane, herons, ibis, pelicans, egrets, Brahminy ducks and geese. The sanctuary is a quiet and serene place to watch rare Indian and foreign birds. This bird sanctuary was established in 1956. The area was declared a national park on 10 March 1982.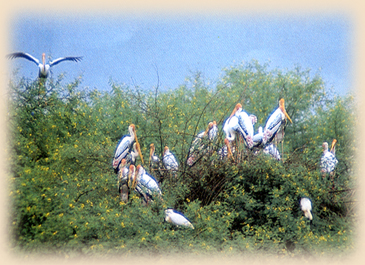 History of Keoladeo Ghana National Park
The name Keoladeo is derived from an ancient Hindu temple, devoted to Lord Shiva, which stands at the centre of the park. 'Ghana' means dense, referring to the thick forest, which used to cover the area. Keoladeo is the only place where the habitat has been created by a Maharaja. In earlier times, Bharatpur town used to be flooded regularly every monsoon. In 1760, an earthen dam (Ajan Dam) was constructed, to save the town, from the floods. Later the depression created by extraction of soil for the dam was cleared and this became the Bharatpur Lake. The Keoladeo Ghana National park was the royal hunting preserve of the royal Bharatpur family and one of the best duck shooting wetlands in the world. The hunting was prohibited by mid 60s.

Major Attraction
The major attraction in this park are the numerous migratory birds, which come from as far away as Siberia, Russia and Central Asia and spend their winters in Bharatpur, before returning to their breeding grounds. Some of these migratory birds are Siberian crane, herons, ibis, pelicans, egrets, painted storks, darters, Brahminy ducks and geese. Besides the migratory birds, some local birds like Spoonbills, Cranes, Herons, Egrets, Storks, Flamingoes, Cormorants, Kingfishers, Blue Jays, Shrikes, Orioles, Paradise Flycatchers, Parakeets, Eagles, Hawks, Harriers, Stints, Wagtails, Warblers, Wheatears, Buntings, Larks and Pipits, etc. can also be seen in this park. Various animals like Wild Boar, Sambhar, Chital, Nilgai, Mongoose, Otter, Jackal, Fox, Hyena, Porcupine, Rock Python, Leopard, Jungle Cat and Fishing Cat can also be seen in the park.

Best Time to Visit
Bharatpur Bird Sanctuary is open throughout the year, but the ideal visiting months are from August to November for resident breeding birds and October to February for migratory birds.

The tourists can visit this sanctuary either on foot or on Rickshaws or hire a Bicycle. Rickshaw pullers have been trained by the park management in bird watching and are quite knowledgeable.