The Golden Triangle Tour with Pushkar Fair
(17 Days / 16 Nights)
(Delhi-Agra-Fatehpur Sikri-Jaipur-Pushkar-Udaipur-Jodhpur-Jaisalmer-Bikaner-Mandawa-Delhi)
(to view the route of this tour on a Map please click here)


Welcome




Pushkar Fair is the world's largest camel fair held in the holy town of Pushkar in Rajasthan. A spotlight of one's holiday in India, the Camel festival hosts around 50,000 camels in this magnificent event which are sold, decorated, shaved and raced. From a mere 14,000 to a massive 200,000! This is how the population of Pushkar swells during the Pushkar Camel Fair.


Pushkar Camel Fair is an occasion for villagers from far and near to gather together and enjoys a welcome break from their harsh life of the arid desert. The village women dress in their best colorful clothes and finery for this five-day Camel festival. It is an occasion for Hindu pilgrims to converge for a holy dip in the sacred Pushkar Lake to "wash away the sins of a lifetime" and pay obeisance at the only Brahma temple in the world. Read more about Pushkar Camel Fair.

Introduction
Also known as Pushkar ka Mela, Pushkar Fair, is the world's largest camel fair held in the holy town of Pushkar in Rajasthan. Pushkar Fair is undoubtedly the world's largest camel fair and it also makes it world's largest cattle fair in general. Competitions such as the "Matka Phod", "moustache", and "bridal competition" are the main attractions of this fair which attracts thousands of tourists. A spotlight of one's holiday in India, the festival hosts around 50,000 camels which are sold, decorated, shaved and raced. From a mere 14,000 to a massive 200,000! This is how the population of Pushkar swells during the Pushkar Fair.

History & Legends
Puskar has has the only temple of Lord Brahma in the country. Myth says that Lord Brahma was on his way to search for a suitable place to perform a 'Yagna' (a fire sacrifice) while contemplating, a lotus fell from his hand on the earth and water sprouted from that place. One of them was Pushkar where Lord Brahma performed "Yagna". Worship of Brahma was considered highly important at the end of the first millennium BC. The holy lake has 52 ghats and pilgrim taking a ritual dip in the lake is a common sight. Although a serene town, Pushkar bustles with life during the joyous celebration held on Kartik Purnima. Every year thousands of devotees throng the lake around the full moon day of Kartik Purnima in October-November to take a holy dip in the lake. Huge and colourful cattle fair "The Pushkar Fair", is also held during this time. Pushkar fair is well-known for it's camel trading and other attractive activities.

Cultural Significance
Umpteen number of traders gather here and and set up shops. These traders sell a lot of products like woolen blankets of Merta, bead necklaces of Nagaur, textiles printed in Ajmer and Jodhpur, brassware of Jodhpur and Jaipur etc. Saddles, ropes, and assorted household items are also on sale. Cultural shows and exhibitions are also organized in this fair to enliven the event. Movies are shown, competitions are arranged, bards and poets recite and sing tales of valour and heroism of bygone days. Animal races and other competitions also add the attraction.


Pushkar Fair Programme

The Pushkar Fair is no less than an encyclopedia on the tradition and culture of the state of Rajasthan. It is the event when a better population of the state can be found at one place and at one time. It seems as if the whole state has come alive at Pushkar to stand witness to its pulsating cultural heritage. Villagers gather from all around the state to enjoy and make merry, breaking all the barriers of hectic schedules of their lives. Colourful sights at the fair can touch and move even the sternest heart. Hindu pilgrims can be seen flocking the place to take a holy dip in the Pushkar Lake, washing away all the sins of the past. Devotees and worshippers can be seen surrendering themselves at the only Brahma Temple.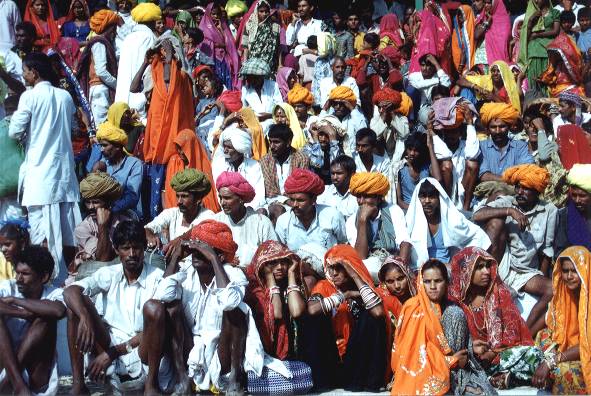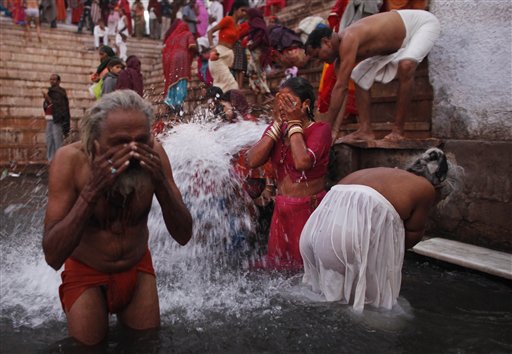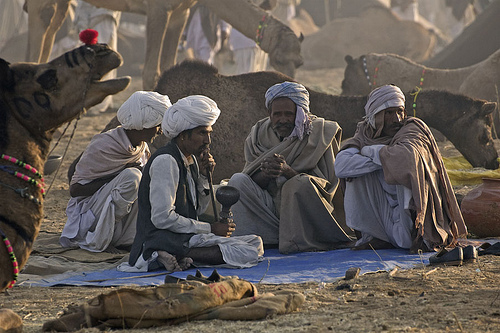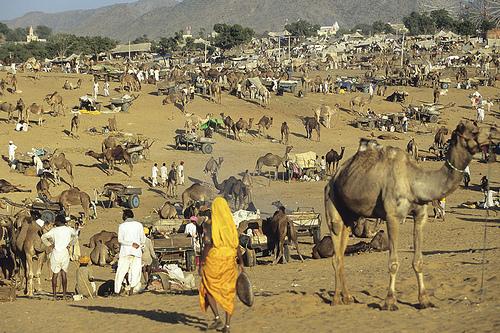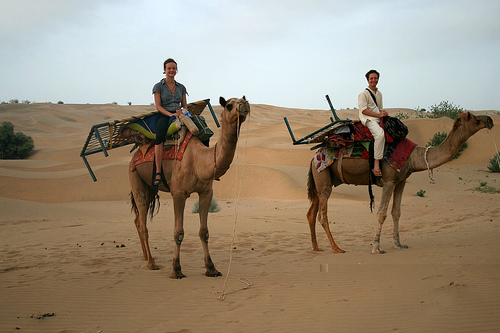 Pushkar Fair
Time of Celebration: In the month of Kartik that usually falls in October or November.
The Pushkar Fair will come in year 2015 on – 18 November - 25 November, 2015.

Day 01. Flight to India (Delhi)
Around midnight arrival in Delhi
. The cosmopolitan city and capital Delhi is the main gateway for travelers. You are met by an Indo Vacations representative and transferred to the hotel.

Day 02. Old - New Delhi
This morning is at leisure. Afternoon sightseeing in Old Delhi. We take a Rickshaw Ride parallel to the Red Fort
through the old city and famous Silk Road and Silver Bazaar. Sightseeing of Old Delhi includes "Rajghat" , the place where Mahatma Gandhi was cremated and Jama Masjid
, the great mosque of old Delhi. Today we also visit the famous "Humayun Tomb
" which is the first substantial example of Mughal architecture in India and "Qutub Minar
" which is 71 meter high and was constructed in 1199. Before we proceed to the Hotel we have a drive through New Delhi where we see the India Gate
, Government Buildings and Embassies.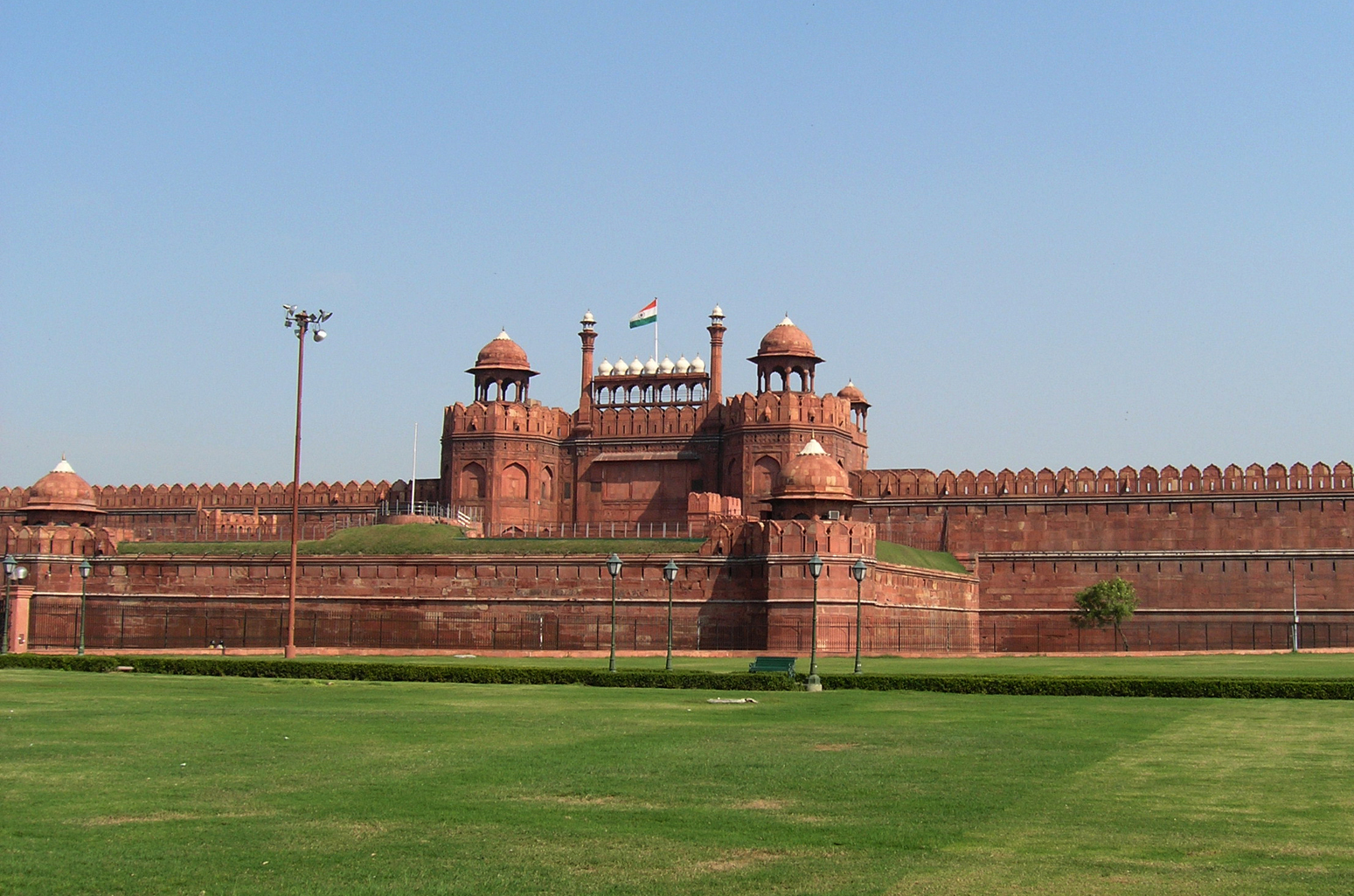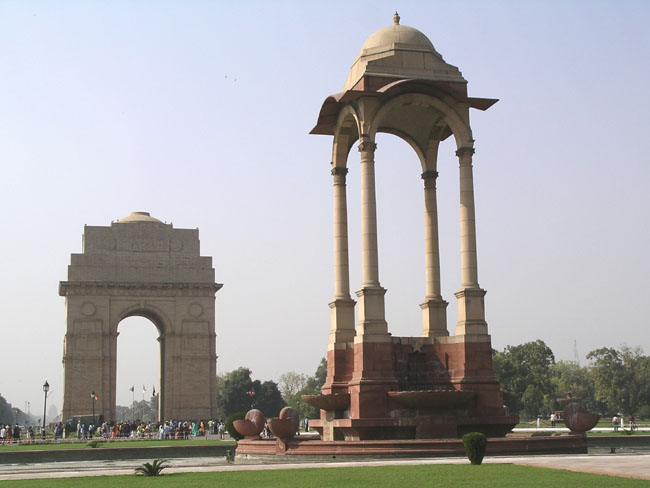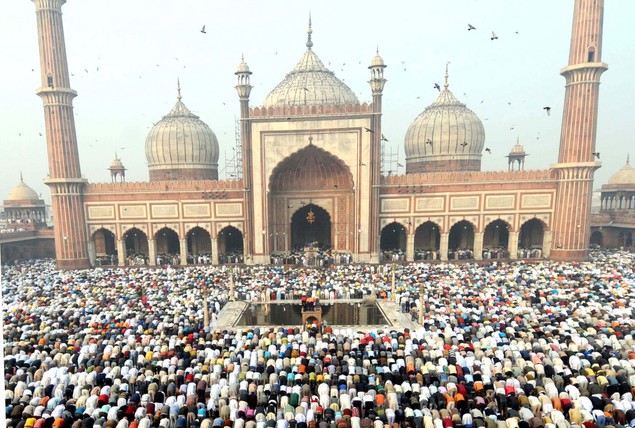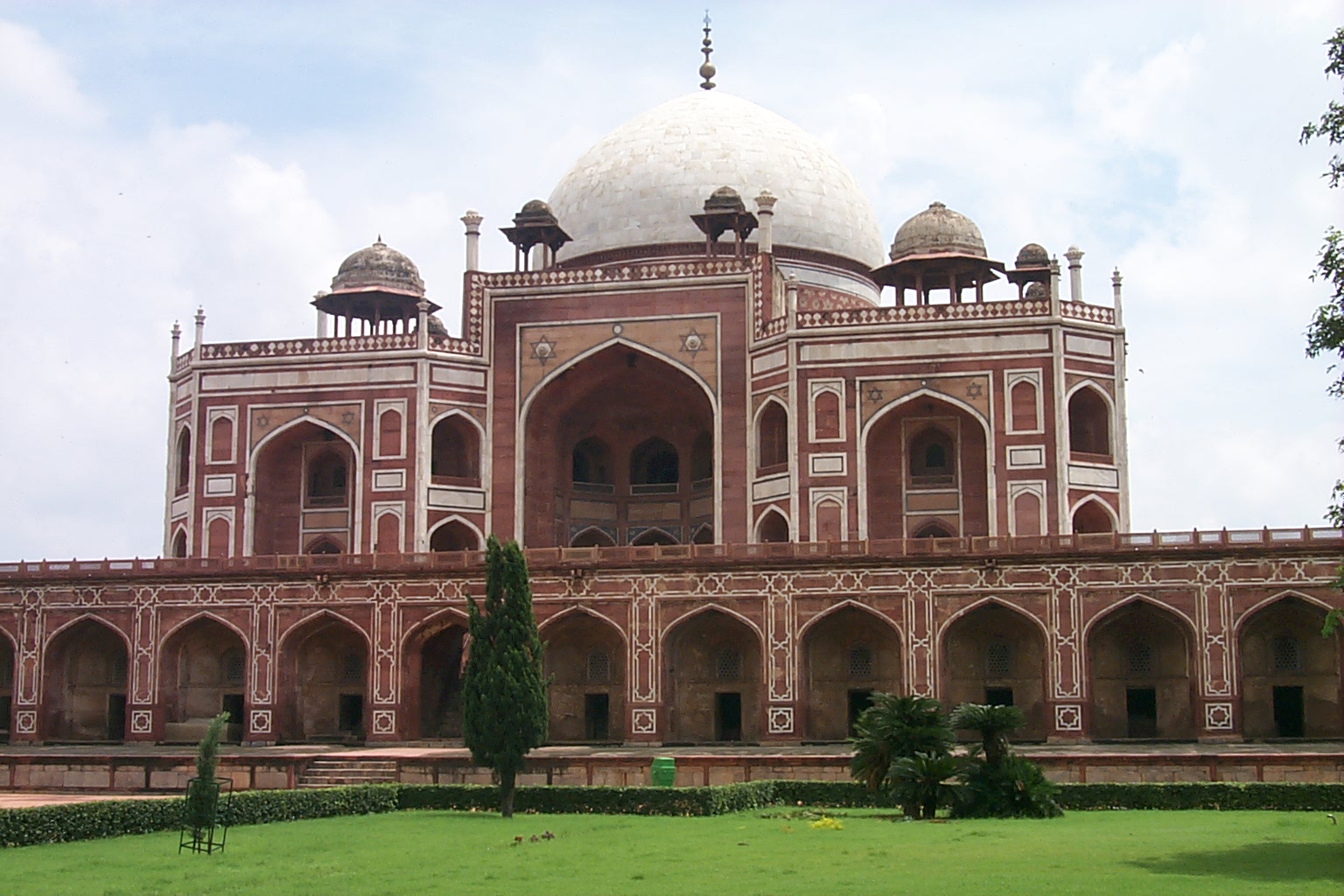 Day 03: New Delhi - Agra (about 200 km / 4 hours)
Today we drive to Agra. In the evening arrive in Agra. Rest of the day at leisure.

Day 04: Agra
We start today our sightseeing by a visit to the Agra Fort, built by three of the greatest Mughal emperors. The construction of this massive structure began in 1565 under Akbar's reign and continued till the time of his grandson's reign, Shah Jahan who built the impressive imperial quarters and mosque. After the visit of Agra Fort we proceed to visit the most beautiful monument of India, the Taj Mahal, an enduring monument to love, with a continually fulfilling beauty. It was built by the Mughal Emperor Shah Jahan between 1631-52, as a tomb and memorial to his beloved wife Mumtaz Mahal (Jewel of the Palace), who died at the age of 39 giving birth to her 14th child.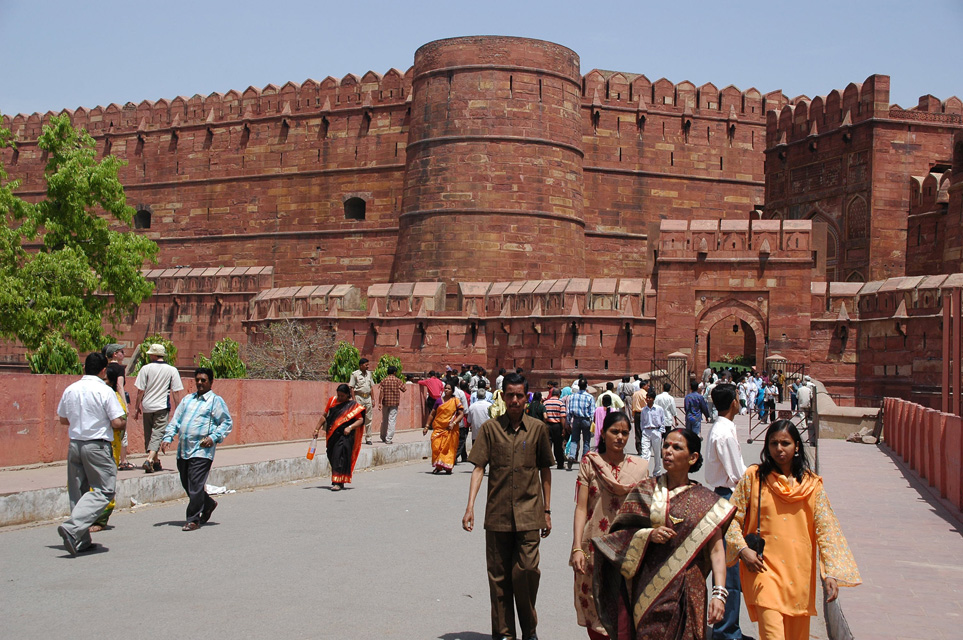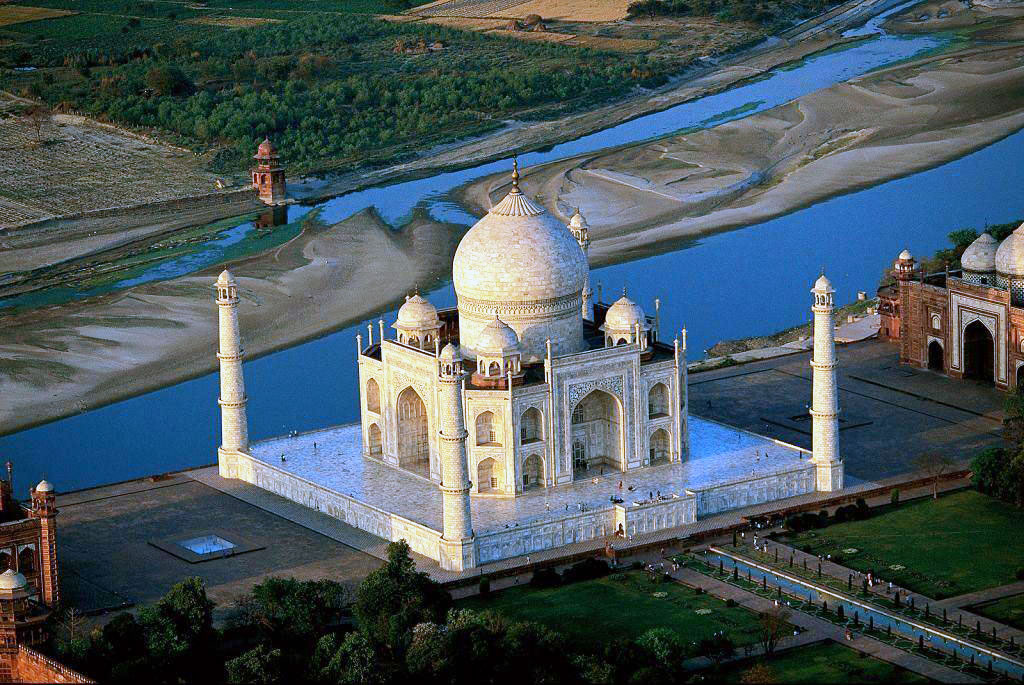 Day 05: Agra - Fatehpur Sikri - Jaipur (about 260 km / 5-6 hours)
Today we leave Agra, drive to the Pink City Jaipur. Enroute we make a stop and visit Fatehpur Sikri, which was once an imperial capital frozen in time, constructed by Akbar the Great in the 16th century. This wonderful city constructed by red sand stones was abandoned as abruptly as it had been built. It has been generally stated that it was due to failing in the water supply. In the evening arrive in Jaipur. This city owes its name, foundations and careful planning to the great warrior and astronomer, Maharaja Sawai Jai Singh II. Jaipur is the capital of Rajasthan and famous for its handicrafts and precious and semiprecious stones.

Day 06: Jaipur
After breakfast we drive to the ancient capital of Amber, laying 11 km. away from Jaipur. Amber was the ancient capital of Kachhawaha dynasty for 6 centuries before it was moved to newly created Jaipur. We will ascend to the Palace Fortress on the back of an Elephant. Enroute to Amber we will visit the Hawa Mahal (Palace of the Winds), built in 1799 AD, it contains 953 small casements with each having its own balcony. The windows enabled cool air to circulate and the ladies to watch processions below without being seen. In the afternoon we visit the City Palace that is still the formal residence of the royal family, built in a blend of the Rajasthani and Mughal architecture. In the museum of the City Palace we visit the private collection of the Jaipur Maharajas. We continue to Jantar Mantar, a stone observatory, and the largest of Jai Singh's five remarkable observatories. Its complex instruments reveal us the secrets of medieval Indian astronomy. Later we have a walk through the colourful Bazaar of Jaipur and visit a factory to see the famous block printing work being done since centuries in Jaipur. In the evening we drive through the new city of Jaipur and visit "Laxmi Narayan Mandir", a Hindu temple made out of white marble. We might have an opportunity here to observe a prayer ceremony. Today we have dinner with a presentation of Indian music and dance.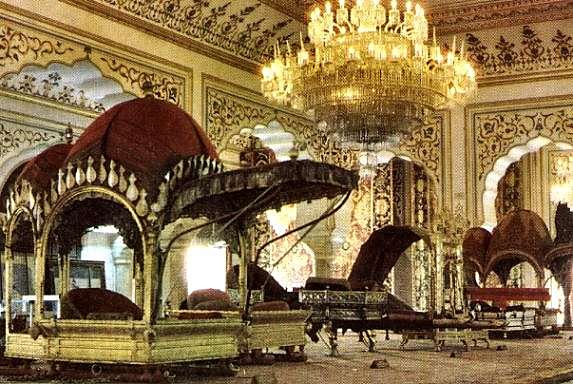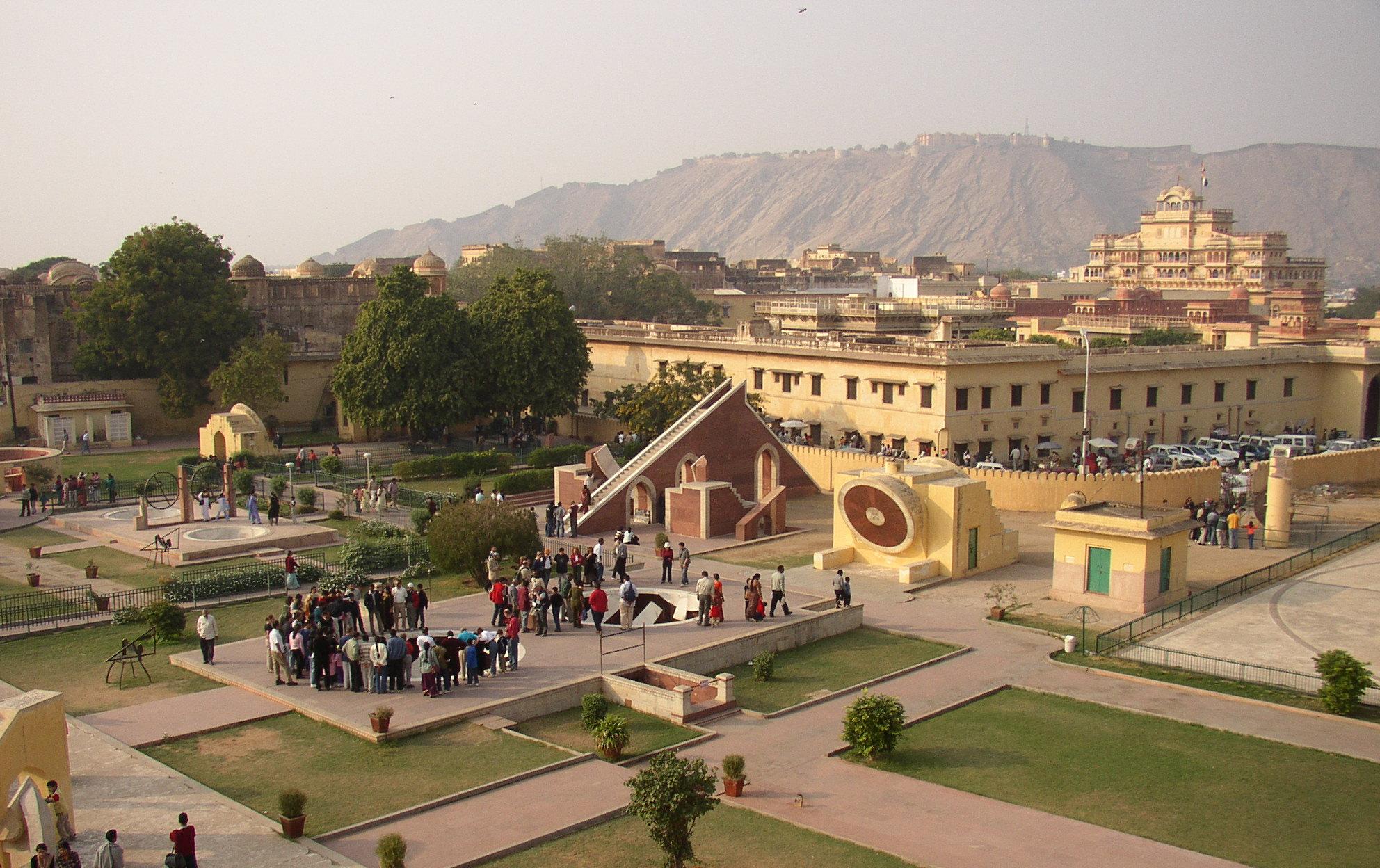 Day 7 to Day 8 Jaipur - Pushkar (about 145 km / 3 hours)
In the morning after having breakfast we drive to Pushkar, an ancient religious town. Pushkar is one of the most religious places for Hindus. The only temple of God Brahma is in Pushkar thus making Pushkar an important pilgrimage city for Hindus. Pushkar has become famous in the world due to its Pushkar Festival which takes place in the month of November when the whole of Pushkar is transformed into a spectacular fair ground where thousands of pilgrims come to bath in the holy water of Pushkar lake and the biggest cattle and camel markets take place here. In Pushkar after having a small break we visit the God Brahma temple and the Pushkar Lake.

Pushkar is famous for its colorful annual fair during Kartik Poornima (full moon) in the month of November each year. At this time, this otherwise peaceful and gentle village on the banks of holy Pushkar Lake is thrown into colorful confusion when the desert tribes and camel caravans meet to trade cattle, camels, goat, sheep, clothes, jewellery and spices. Stay overnight at the Camp.

Day 8: Pushkar
You will spend full day at the fair. Built as 'an explosion of fun, frolic, games and laughter', the fair provides some wonderful photographic opportunities and is a rare change to see Rajasthani women decked out in all their traditional jewellery, dress and finery. It is worth getting up early to see the camels and tribes rousing themselves in the pink of the dawn desert light. Overnight will be at the Camp.

Day 09. Pushkar - Udaipur (about 301 km / 6-7 hours)
After having breakfast drive to Udaipur. Udaipur is called the romantic city of Rajasthan. This city is built around shimmering, clear, blue water lakes which reflect the green hills of the Aravali ranges. Arrive in Udaipur by the evening. Rest of the day at leisure.

Day 10. Udaipur
Today we visit Udaipur, also known as the city of sunrise. We start our sightseeing with the visit of Sahelion-Ki-Bari. This Garden of the Maids of Honour is well laid out with extensive lawns and shady walks. After the visit of Garden of Maids we visit a Museum of folk art. This museum has a rich collection of Folk dresses, ornaments, puppets, masks, dolls, folk musical instruments and paintings on display. After a break we proceed to City palace, the biggest Palace in India, where 4 generations of Maharajas added their contribution, is so carefully planned and integrated with the original buildings that it is difficult to believe that it was not conceived as a whole. The museum of the palace includes the beautiful peacock mosaic and miniature wall paintings of Indian mythology. Today we have an opportunity to visit a traditional painting school and see the famous miniature paintings done. In the evening we have a Boat ride on the lake Pichola. The famous Lake Palace of Udaipur was the summer residence of the former rulers. The James bond Film Octopussy was shot here and made this palace more known in the west.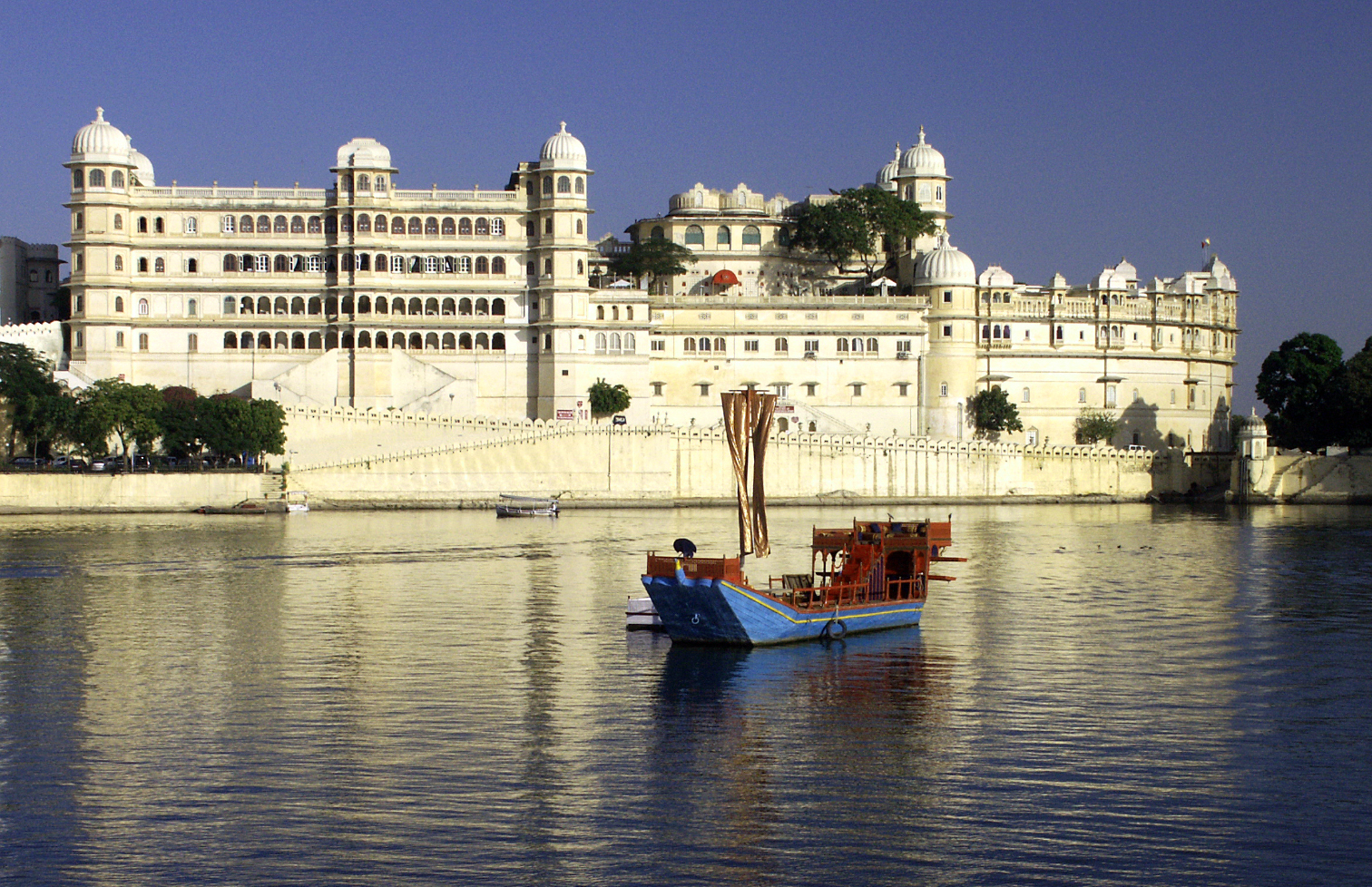 Day 11. Udaipur - Jodhpur (about 275 km / 5-6 hours)
In the morning after having breakfast we drive from Udaipur to Jodhpur. The city was once the capital of the princely state of Marwar (Land of death). Jodhpur is the second largest city in Rajasthan. Jodhpur is also known as the blue city as most of the houses of the old city are painted blue. The old city is surrounded by a huge 10 km long wall which has 101 bastions and seven gates. Jodhpur lies on the once strategic Delhi-Gujarat trading route and the Marwaris got benefit from the passing traffic of opium, copper, silk which was traded to China. We will visit the Mehrangarh Fort (majestic fort). Mehrangarh Fort was built on a steep hill and is among the best in India with exquisitely latticed windows in residential apartments within. We also visit the Jaswant Thada, a royal cenotaph built in white marble. After the sightseeing we have a walk through the Bazaars of Jodhpur.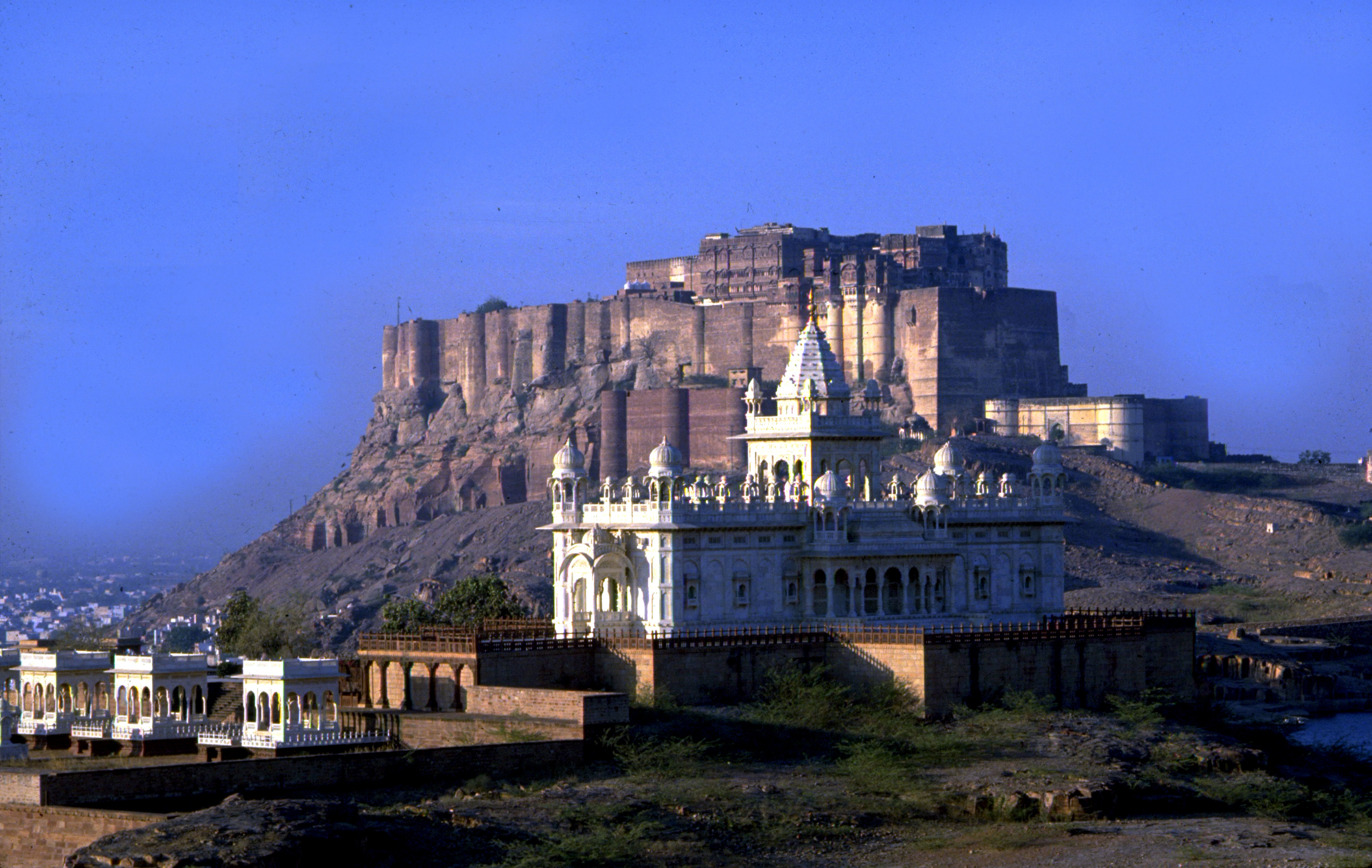 Day 12. Jodhpur - Osian - Jaisalmer (about 290 km / 5-6 hours)
Today we drive through the desert and proceed for Jaisalmer via Osian. Osian is a great centre of Hindu and Jain religions. The oldest Temple here was constructed in 1178 AD. After visiting Osian, we proceed further for Jaisalmer. In medieval times Jaisalmer prosperity was due to its location on the main trade route linking India to Egypt,
Arabia, Africa and the West. Jaisalmer is a marvel of beautiful culture and this city remains one of the most exotic city not only in Rajasthan but in the whole of India. We have the rest of the day at leisure and therefore enough time to relax.

Day 13. Jaisalmer
Sightseeing of the medieval city of Jaisalmer. Jaisalmer's crenellated golden sandstone walls and its narrow streets lined with exquisitely carved buildings makes this city unique. Jaisalmer is famous for its carved Havelis (grand mansions). Some of the visitors called this city "a living museum". We have a walk through the old city and visit the Fort and the Jain temple. In the afternoon we drive around 40 km. away from Jaisalmer to Sam dunes where we enjoy the sunset before we drive back to Jaisalmer.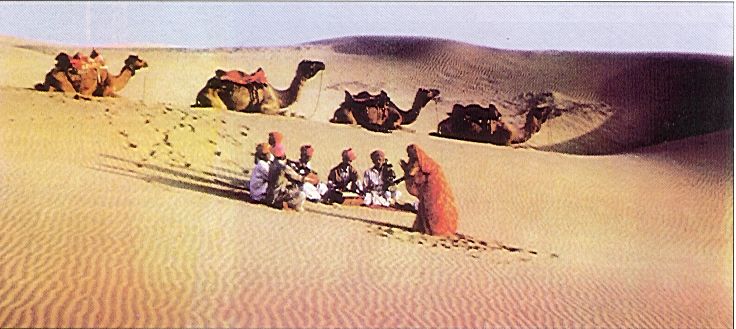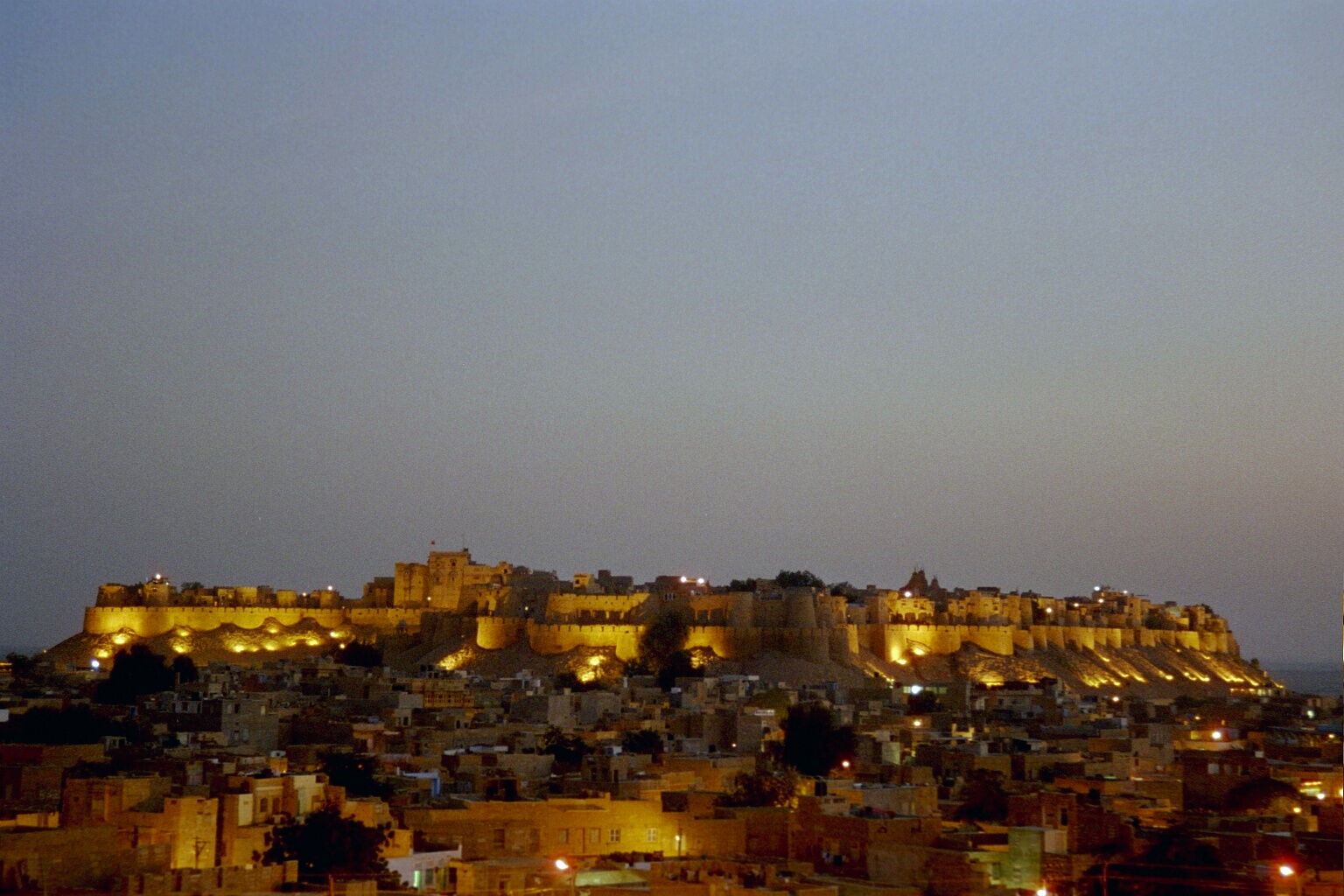 Day 14. Jaisalmer - Bikaner (about 330 km / 6-7 hours)
Today early morning we drive through the desert and proceed for Bikaner. After a short break in Bikaner we visit the Junagarh Fort (1571-1611 AD) constructed of red sandstone and marble with kiosks and balconies embellishing the structure at intervals. This imposing Fort and its palaces are an unforgettable experience for us.


Day 15. Bikaner - Mandawa (about 190 km / 4 hours)
After having our Breakfast we take leave from Bikaner and we drive to Mandawa (Shekhawati region). Arrival in Shekhawati in the evening. Shekhawati is situated in the North east region of Rajasthan and is the homeland of Marwaris. The Marwaris form one of the most important merchant and business groups in India. They developed their business acumen on the trade routes between Delhi and the coast between India and Central Asia.
Day 16. Mandawa - Delhi (about 250 km / 5-6 hours)
In the morning we visit the grand Havelis of the Mandawa (Shekhawati) area. The Marwaris enjoyed protection by Maharajas and many of them built grand Havelis. The Havelis are mansions, elaborately and attractively decorated with a strong main entrance. The walls are often covered with murals, local legends and religious scenes from Hindu Mythology. After the visit of Shekhawati area we proceed to Delhi. The rest of the day at leisure. (opportunity for the last shopping.)
Day 17. Flight Back Home
Around midnight flight back to home destination.
Tour Reservation
To get more information or to book this tour please submit the Query Form or send us an e-mail ! Your booking will be activated only after we get a reconfirmation from your side.

About Hotels:
We provide you the accommodation as per your budget mentioned above in the table of hotels category for any of the booked tour. Hotels provided by us are from budget to luxury class hotels. Luxury hotels are all five stars or of above standard. Deluxe would be a combination of 3 and 4 star Hotels and standard would be a combination of 2 and 3 star or similar hotels. The criteria for selecting hotels by us remains the best value of your money. We also provide you wherever possible accommodation in heritage hotels. Heritage Hotels are old Palaces, Forts and Grand mansions of Maharajas which have been later renovated and converted into Hotels. Rooms are decorated all individually. Rooms are comfortable, romantic and present the flair of olden Maharaja days.

Proposed Hotels


Nights

Indo Vacations – Inclusions:

Accommodation in a double room with shower /bath & WC in the hotels as indicated.

Half board (breakfast and dinner in the booked Hotels).

Rickshaw ride in Delhi, Elephant ride in Amber.

Boat ride in Udaipur.

Breakfast & Dinner in the Hotel during the tour.

One Dinner will be with a presentation of Indian music and dance.

An experienced English speaking Tour Guide / Tour Escort for the local sightseeing throughout the whole tour (An Accompanying Tour Escort will be provided on the group strength above 10 traveler).

An air-conditioned vehicle, including insurance, fuel etc. with chauffeur (experienced, reliable and English speaking) during the entire tour.

All entrance fees of the mouments as per the tour itineray.

All taxes.


Not included are: International Flights, Camera fees, gratitude, drinks and personal expenses of any nature!

Note:

We suggest that you book the international flights in your country as this is mostly cheaper.

Please note you will need a visitor visa for India. We recommend to apply for the same well in advance.

For individual travelers joining the group will not be charged extra for both the airport transfers (advance notice required)

If the desired travelers do not register for the tour – An option will be available to operate the group tour with less people with some extra charges. These charges will be informed well in advance and till then there is no obligation or no cancellation charges of registration.

Registration for the group tour with Indo Vacations is without any cost. Only at the time of confirmation we will send you the travel documents and ask for 25 % of the total amount as advance payment. The due amount can be paid after your arrival in India. (more information is available on query).

Indo Vacations reserve the right of changes which may be beyond our control.

Heritage Hotels:
Heritage Hotels are old Palaces, Forts and Grand mansions of Maharajas which have been later renovated and converted into Hotels. Rooms are decorated all individually. Rooms are comfortable, romantic and present the flair of olden Maharaja days.

Delhi

3

Hotel Howard Park Plaza****

Agra

2

Hotel Ramada / Park Prime****

Jaipur

2

Tent with all meals

Puskhar

2

Hotel Ram Pratap Palace, Udaipur (Deluxe)***

Udaipur

2

Hotel Devi Bhawan (Heritage)***

Jodhpur

1

Hotel Rang Mahal***

Jaisalmer

2

Hotel Gajner Palace
(Heritage)*****

Bikaner

1

Hotel Mandawa Haveli (Heritage)***

Mandawa

1

Total Nights

16

Details for the vehicles used are available at the below given links:

For 1 person – Tata Indigo - (4 seats) http://www.indovacations.net/english/tataindigo.htm

For 2 person – Tata Indigo - (4 seats) http://www.indovacations.net/english/tataindigo.htm

For 3 person – Tata Indigo - (4 seats) http://www.indovacations.net/english/tataindigo.htm
For 3 - 5 person – Tavera Chevrolet / Toyota Innova - (6 seats) http://www.indovacations.net/english/tavera.htm; http://www.indovacations.net/english/ToyotaInnova.htm

For 6-9 person - Tempo Traveler - (10 seats) http://www.indovacations.net/english/tempotraveler.htm;

Testimonials & References from the customers who already traveled with us!
Rajasthan Travel Guide

About Rajasthan
Cuisines
History
Rajasthan Tours
Social Profile
Accommodation
Customs & Traditions
Museums & Galleries
Rajasthan Villages
Telephone Codes
Adventure
Distance Chart
Music & Dance
Rajasthan Weather
Tourist Attractions
Art & Culture
Economy of Rajasthan
Parks & Sanctuaries
Reaching Rajasthan
Travel Tips
Ayurveda in Rajasthan
Fairs & Festivals
Photo Gallery
Religious Rajasthan
Traveling Around
Camel Safari
Forts & Palaces
Rajasthan City Tours
Royal Train
Tribes
Cities in Rajasthan
Heritage Hotels
Rajasthan Craft
Rural Bazaars
Women Travel
Climate
Horse Safari
Rajasthan Links
Rural Rajasthan
Yoga

Home

e-mail

Chat
Contact

Enquiry
About Us
Feedback

FAQ

Site Map

Links

www.indovacations.net
Copyright © Indo Vacations. All Rights Reserved.